The Non-Technical Guide to Popular Conversational AI Terminology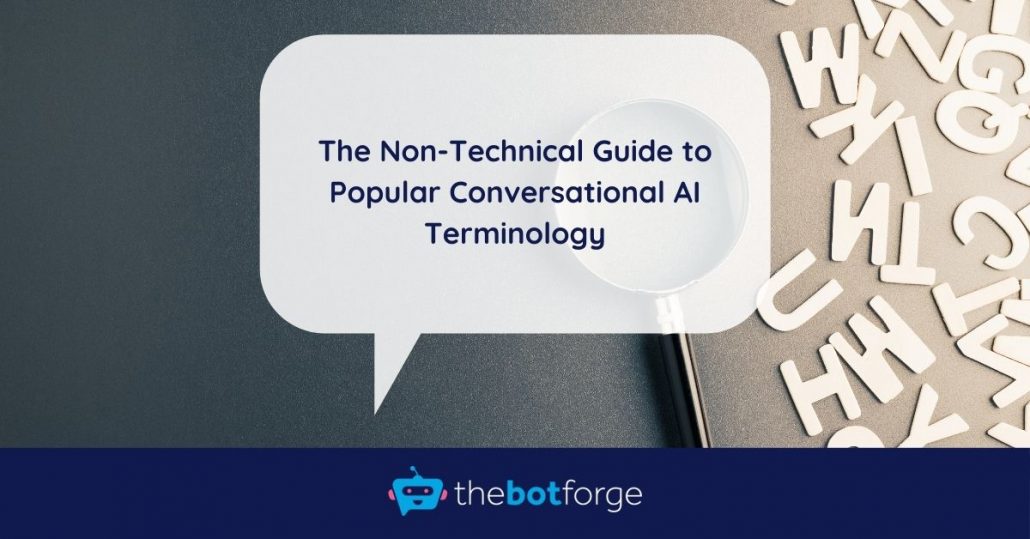 Conversational AI Terminology Cheatsheet
Conversational AI technology is not new, but the advanced in the technology has driven a major growth in the industry and what can be achieved in its role solving business problems for many types of industries.
We talk about Conversational AI a lot on our website and blog, after all this technology is at the core of what we do at The Bot Forge.
You may well have encountered some of the different terminology used. But what do developers and technologists really mean when they use these terms? Having a simple understanding of some of the more frequently used terms can be useful when thinking and talking about your chatbot or voice assistant strategy. This conversational AI terminology cheatsheet aims to help you understand; no technical knowledge required!
Algorithm

An algorithm is a formula for completing a task. Wikipedia states that an algorithm "is a step-by-step procedure for calculations. Algorithms are used for calculating, automated processing and data processing and provide the foundations for artificial intelligence technology.

Artificial Neural Network

Artificial Neural Networks or ANN are artificial replicas of the biological networks in our brain and are a type of machine learning.  Although nowhere near as powerful as our own brains they can still perform complex tasks such as playing chess, for example AlphaZero, the game playing AI created by Google.

Artificial Intelligence

AI research and development aims to enable computers to make decisions and solve problems. The term is actually a field of computer science and is used to describe any part of AI technology of which there are 3 main distinctions (1)

Big Data

Big data describes the large volume of data – both structured and unstructured – that floods through a business and its processes on a day-to-day basis. In the context of AI big data is the fuel which is processed to provide inputs for surfacing patterns and making predictions.

Chatbots

I think we have mentioned these once or twice! A chatbot is a conversational interface powered by AI and specifically NLP. They can be text-based, living in apps such as Facebook Messenger or their interface can use voice-enabled technology such as Amazon Alexa.

Cognitive

Cognitive computing mimics the way the human brain thinks by making use of machine learning techniques. As researchers move closer towards transformative artificial intelligence, cognitive will become increasingly relevant.

Conversational Design/Conversational Designer

Whilst not a technical term its a relatively new role which has grown to being a vital one with the rise in the popularity of conversational experiences. It's important to understand what this new breed of skilled professional brings to a chatbot project and why they are so important. Conversation design is the art of teaching computers to communicate the way humans do. It's an area that requires knowledge of UX design, psychology, audio design, linguistics, and copywriting. All of that put together helps chatbot designers create natural conversations that guarantee a good user experience.

Deep Learning

Also known as a deep neural network, deep learning uses algorithms to understand data and datasets. Deep Learning is a subfield of machine learning concerned with algorithms inspired by the structure and function of the brain called artificial neural networks. Deep Learning techniques have become popular in solving traditional Natural Language Processing problems like Sentiment Analysis.

Entity and Entity Extraction

Entities are also sometimes referred to as slots. An entity is used for extracting parameter values from natural language inputs. Any important data you want to get from a user's request will have a corresponding entity.  Entity extraction techniques are used to identify and extract different entities. This can be regex extraction, Dictionary extraction, complex pattern-based extraction or statistical extraction. For example, if asked for your favourite colour you would reply "my favourite colour is red". Dictionary extraction would be used to extract the red for the colour entity. What that means in the real world is types of product, locations, model numbers, parts numbers, courses etc: basically anything related to your business which needs to be understood and extracted from the conversation.

Intelligent Personal Assistants

This term is often used to describe voice-activated assistants which perform tasks for us such as Amazon Alexa, Google Assistant, Siri etc instead of text-based chatbots.

Intent

An intent represents a mapping between what a user says and what action should be taken by your chatbot. A good rule of thumb is to have An intent is often named after the action completed for example FindProductInformation, ReportHardWareProblem  or FundraisingEnquiry.

Machine Learning

Machine Learning or ML for short is probably used by you every day in Google search for example or Facebooks image recognition. ML allows software packages to be more accurate in predicting an outcome without being explicitly programmed. Machine learning algorithms take input data and use statistical analysis to predict an outcome within a given range. Machine learning methods include pattern recognition, natural language processing and data mining.

Natural Language Processing

Natural language processing (NLP) is broadly defined as the automatic manipulation of natural language, like speech and text, by software. NLP is a branch of artificial intelligence that helps computers understand, interpret and manipulate human language. NLP draws from many disciplines, including computer science and computational linguistics to fill the gap between human communication and computer understanding.

Natural Language Understanding

A subfield of NLP called natural language understanding (NLU) has begun to rise in popularity because of its potential in cognitive and AI applications. NLU goes beyond the structural understanding of language to interpret intent, resolve context and word ambiguity, and even generate well-formed human language on its own.

NLU algorithms tackle the extremely complex problem of semantic interpretation. That is understanding the intended meaning of spoken or written language. Advances in NLU are enabling us create more natural conversations.

Sentiment Analysis.

Sentiment Analysis is the process of determining whether a piece of writing is positive, negative or neutral. More advanced analysis would look at emotional states such as "angry", "sad", and "happy".

Utterance

An utterance is anything the user says via text or speech. For example, if a user types "what is my favourite colour", the entire sentence is the utterance.

Conversational IVR

Conversational IVR is a software system which uses voice commands from customers. This allows them to interact with IVR systems over telephony channels.

Whereas traditional IVR systems had speech recognition technology to handle simple voice commands such as "yes" or "no".  Conversational IVR allows people to communicate their inquiries in more complete phrases via a natural language understanding. Callers can describe questions or concerns in their own words which is then matched to an intent by natural language understanding.
We hope you have found this Conversational AI Terminology Cheat-sheet helpful.
Comment if you think I've missed any terms out which should be on the cheat sheet.
If you want to talk about your chatbot project why not book a free consultation with us.
About The Bot Forge
Consistently named as one of the top-ranked AI companies in the UK, The Bot Forge is a UK-based agency that specialises in chatbot & voice assistant design, development and optimisation.
If you'd like a no-obligation chat to discuss your project with one of our team, please book a free consultation.