BNP Paribas Personal Finance: Fintech Chatbot Challenge
Serendip Fintech Accelerator Program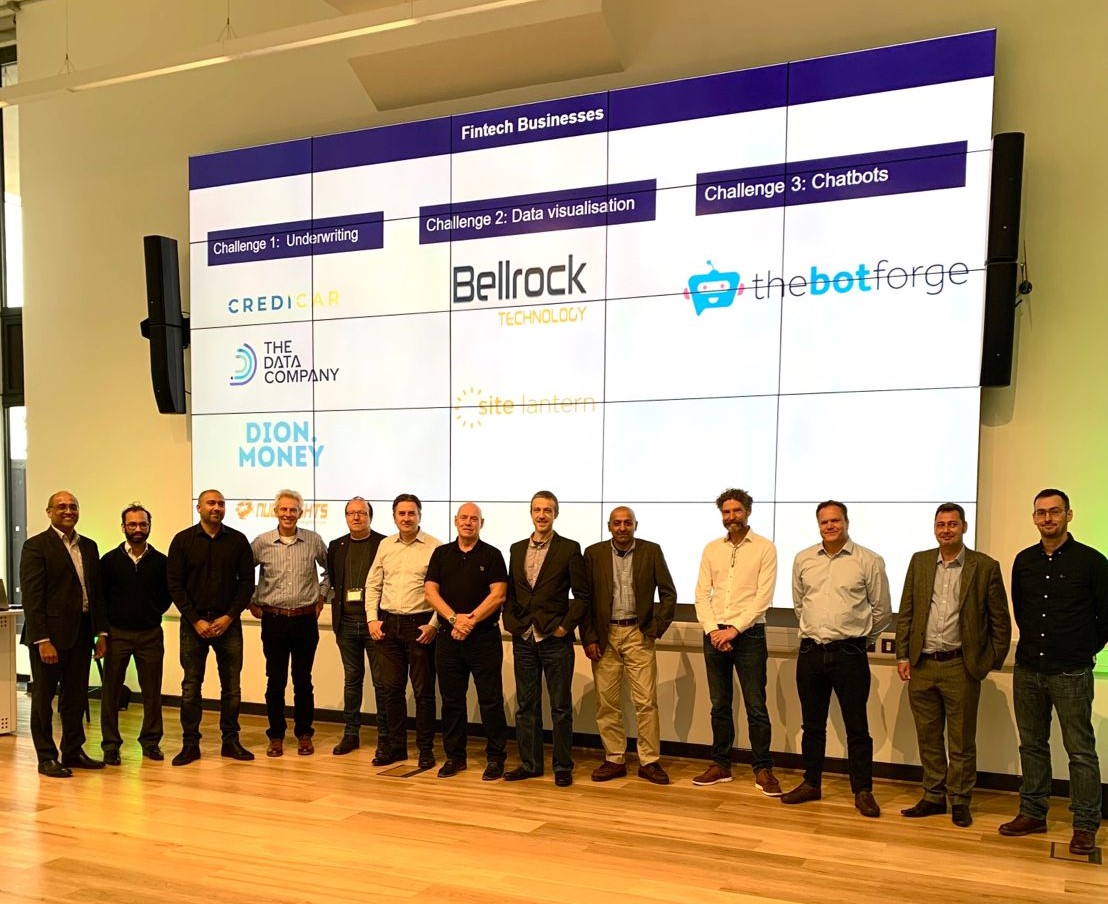 Our Approach
Conversation Design Following Industry Standards
The challenge was to carry out a reduced-scope conversational AI project with a focus more on the process and industry best practices of conversation and NLU design than the final implementation of existing technologies of the BNPPPF technical landscape.
Discovery & Requirements
By carrying out a series of onsite workshops and twice-weekly virtual project meetings we carried out the following investigations and built up a solid understanding of BNPPPF technologies, operations and users.
Technologies
Explored the available technology landscape at BNP Paribas PF concentrating on the conversational AI capabilities of the current technology vendor at BNP Paribas PF.
We carried out a series of fact-finding workshops and meetings with the BNPPPF customer support team.
Operations
We looked at the BNPPPF customer support operations in more detail. In particular, we looked at support queries that the support teams are currently handling.
We were also able to gain a detailed understanding of specific transactional enquiries by following call flow diagrams and also support staff information flow cards for specific support enquiries.
User Personas
It's important to understand User/customer personas so we spent some time looking at the types of customers an automated solution would need to assist. Where the conversations would take place was also considered.
Users could be one of 2 types: existing users or new users.
Happy Conversation Design
Creating Chatbot Persona
For a chatbot persona, BNPPPF already had a character, Credito, so we were able to take the tone of voice and character traits from existing brand guidelines. The brand guidelines and tone of voice were then followed through in later stages when writing the chatbot responses.
Discovering & Prioritizing Use Cases
From the pool of use cases and support queries covered in the earlier discovery phase, we were able to agree on a subset of user journeys for existing and new customers which we could concentrate on helping with a chatbot.
Log in support
Repeat account details
Making a payment
Early settlement
Electronic signature
Security Considerations
It's no surprise that implementing a production-ready chatbot for a bank comes with several security challenges. We spent time considering these challenges: particularly the need for the protection of sensitive customer data, such as personal information and financial details as well as adhering to the compliance and privacy regulations requirements.
Mapping out chatbot and user needs
We worked through each use case in detail. Taking into account user needs and chatbot needs for each specific case: concentrating on goals, responsibilities, mindset and capabilities.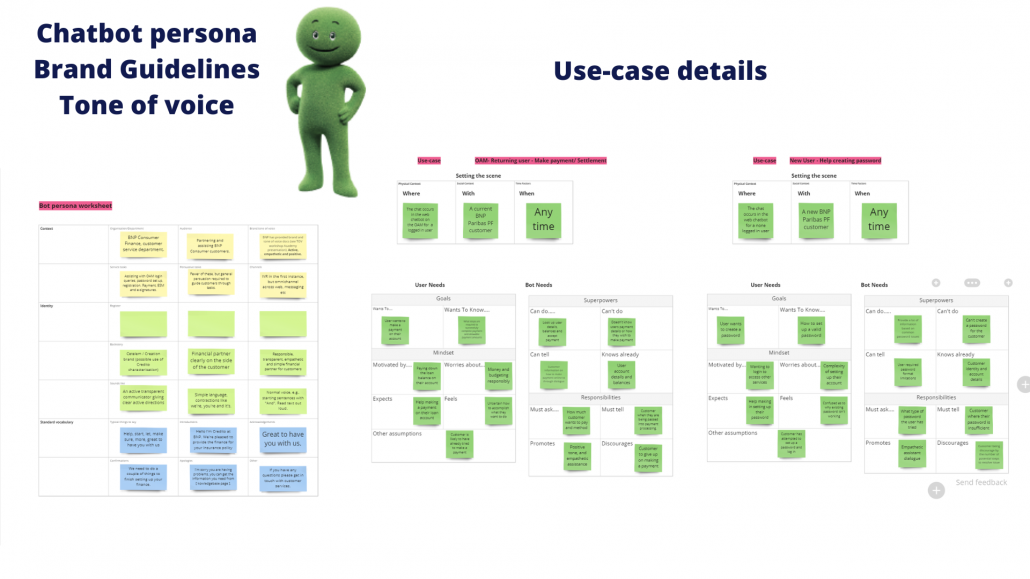 Sample Dialogue & Flowchart Design
Dialogue:
Part of our conversation design process was to spend time with the team going through the BNPPPF brand guidelines while adhering to their values of Responsibility, Transparency, Empathy and Simplicity.
We also looked at the tone of voice, examples of how different tones of voice worked and end-user expectations. Chatbot responses were then aligned with the tone of voice for all further working examples.
Flow design:
Designing flows with an interactive prototyping tool is a good way to progress a conversational ai project. We use Voiceflow for most of our projects. We were able to leverage the power of Voiceflow to enable rapid progress on conversation design to map realistic conversations and define complex processes.
Voiceflow enabled us to work on the conversation design quickly and collaborate with other stakeholders in the challenge.
"Production-ready conversational designs should be as reflective of the live experience as possible"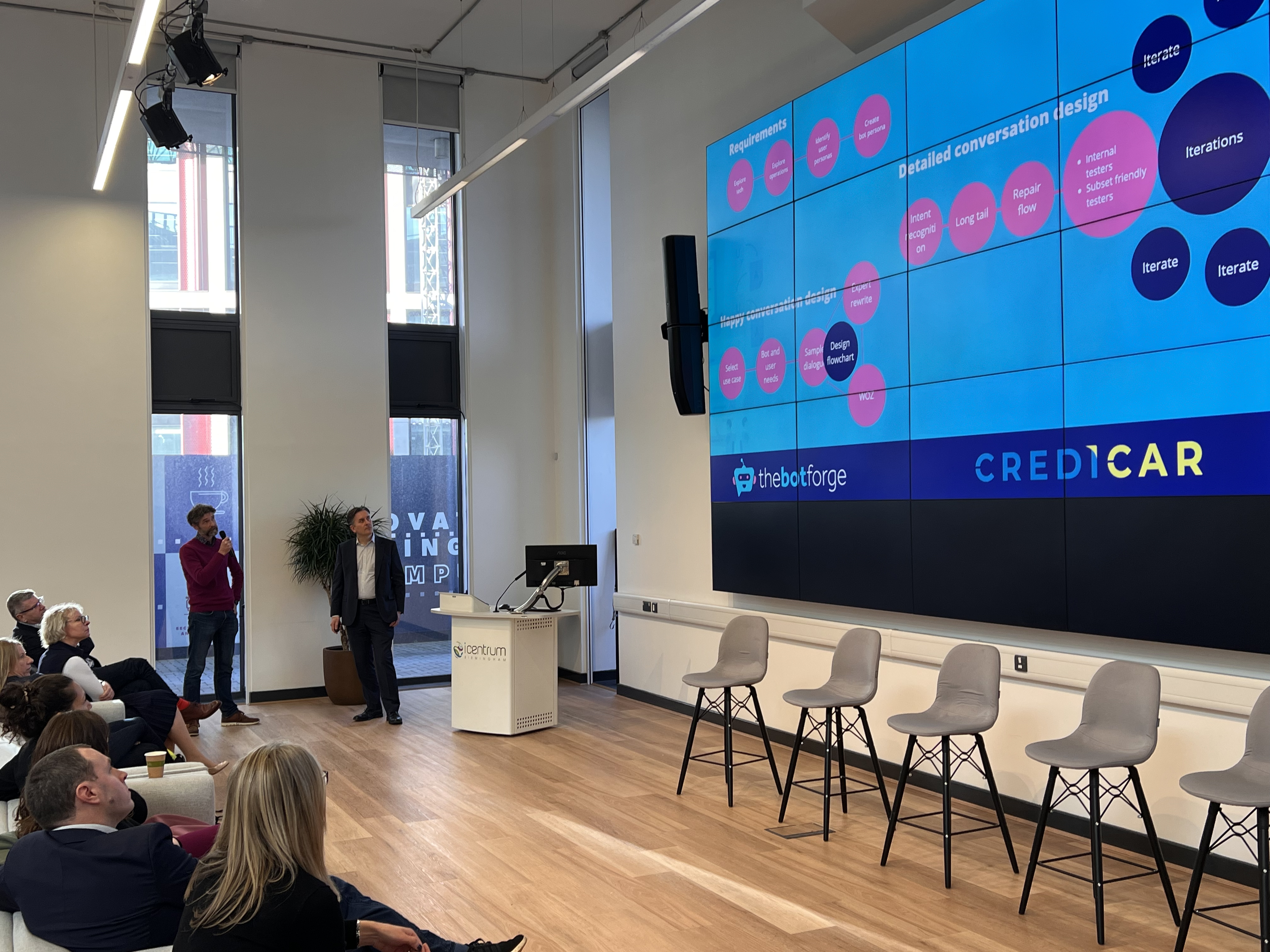 I am confident The Bot Forge will be able to give us digital solutions that improve the customer journey and help to reduce OPEX in the process.

Simon Jones (Head of Operations)
The results of the challenge were presented to all stakeholders and participants at the Serendip Showcase Event at the Science Centre in Birmingham.
Overall the feedback from the team at BNP Paribas Personal Finance was positive and challenge 3 was viewed as a success. Our expertise and knowledge allowed us to meet the demands of the challenge and have placed the team at BNP Paribas PF in a strong position to tackle their next phases of improving customer engagement and streamlining internal processes with conversational AI.