Access your chat transcripts, chatbot analytics and reporting in Chatseer
Optimize chatbot and voice assistant effectiveness using advanced chatbot analytics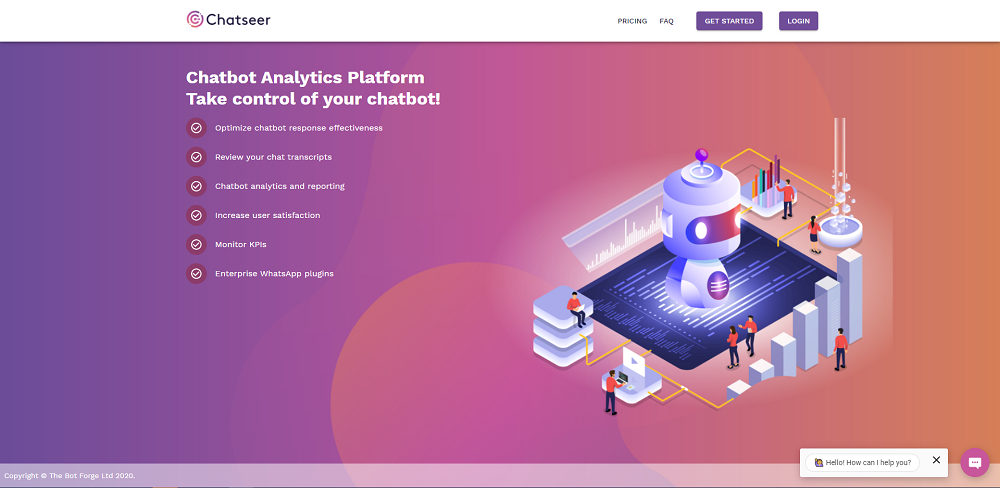 Advanced chatbot and voice assistant analytics at your fingertips.
We created Chatseer; our custom chatbot insights platform, to enable chatbot owners to access their chatbot usage information quickly and easily.
Key Metrics to evaluate Your Chatbot's Performance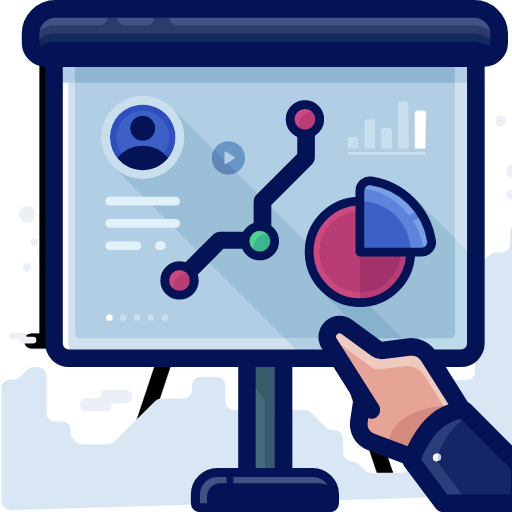 We took our in-house chatbot analytics platform and created Chatseer.
We listened to our chatbot owners and created what they needed to monitor the performance of their chatbot.
A real-time platform to enable our customers to view the most important metrics to understand how their chatbot is being used.
Coupled with an advanced notification service so that portal users can stay informed and proactive about how their digital assistant is being used.
Review live chat transcripts
Explore sentiment and NLP accuracy
Identify mishandled and unhandled Intents
View intents & entity details
Users & sessions
Monitor KPIs
Increase user satisfaction
Reduce escalations
Reduce NLP failure rate
Optimise your chatbot experience
Advanced chatbot analytics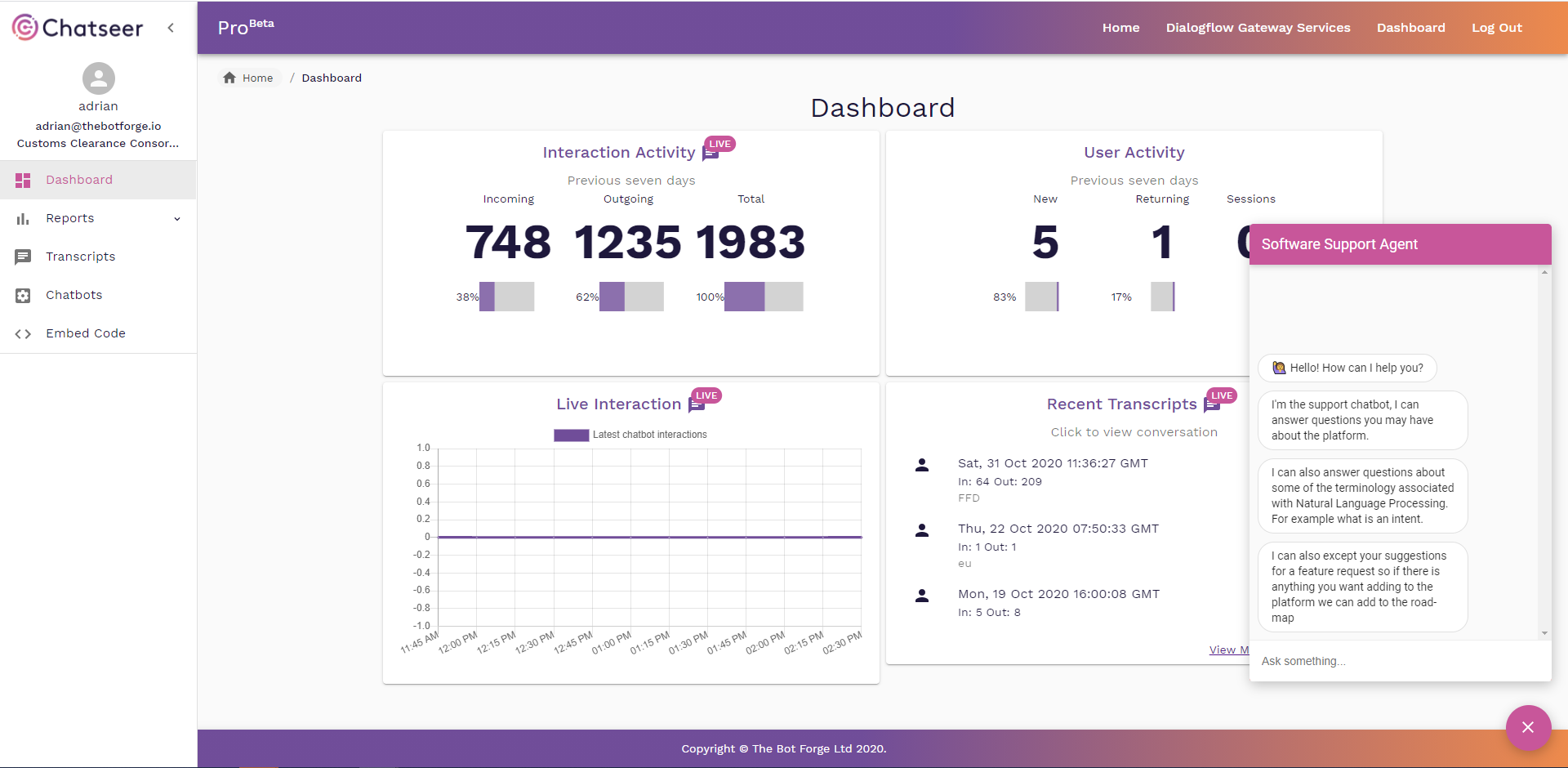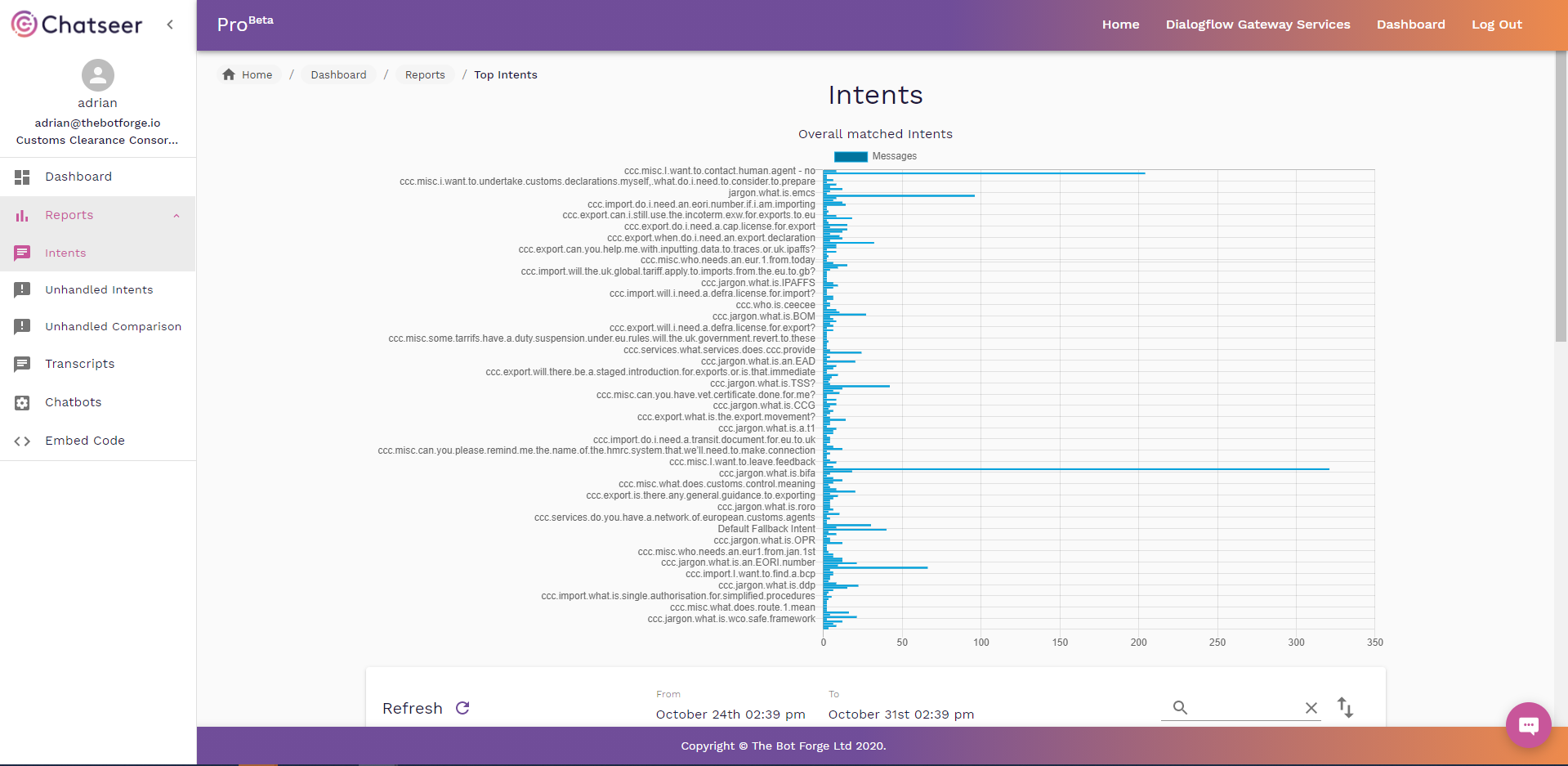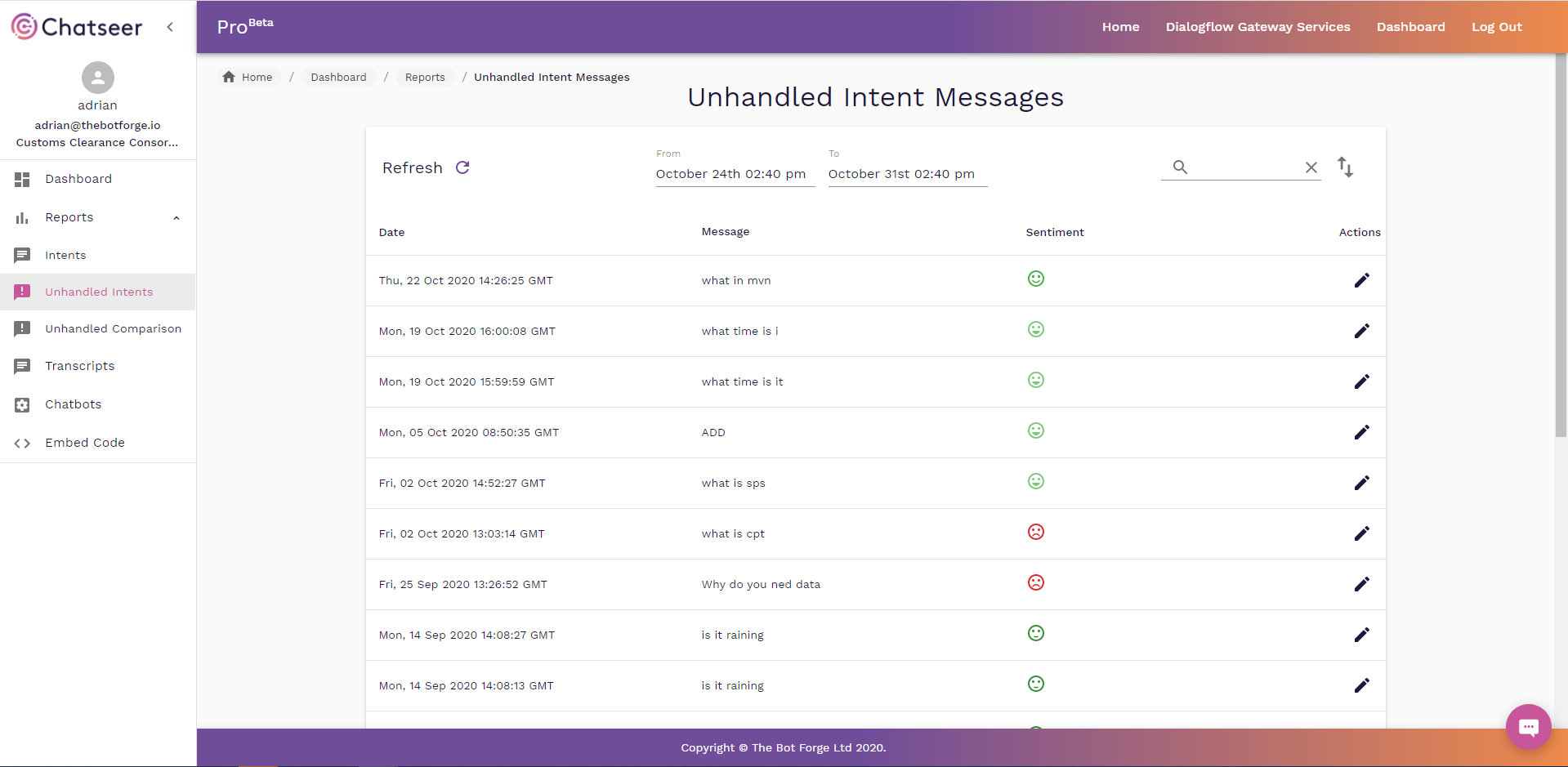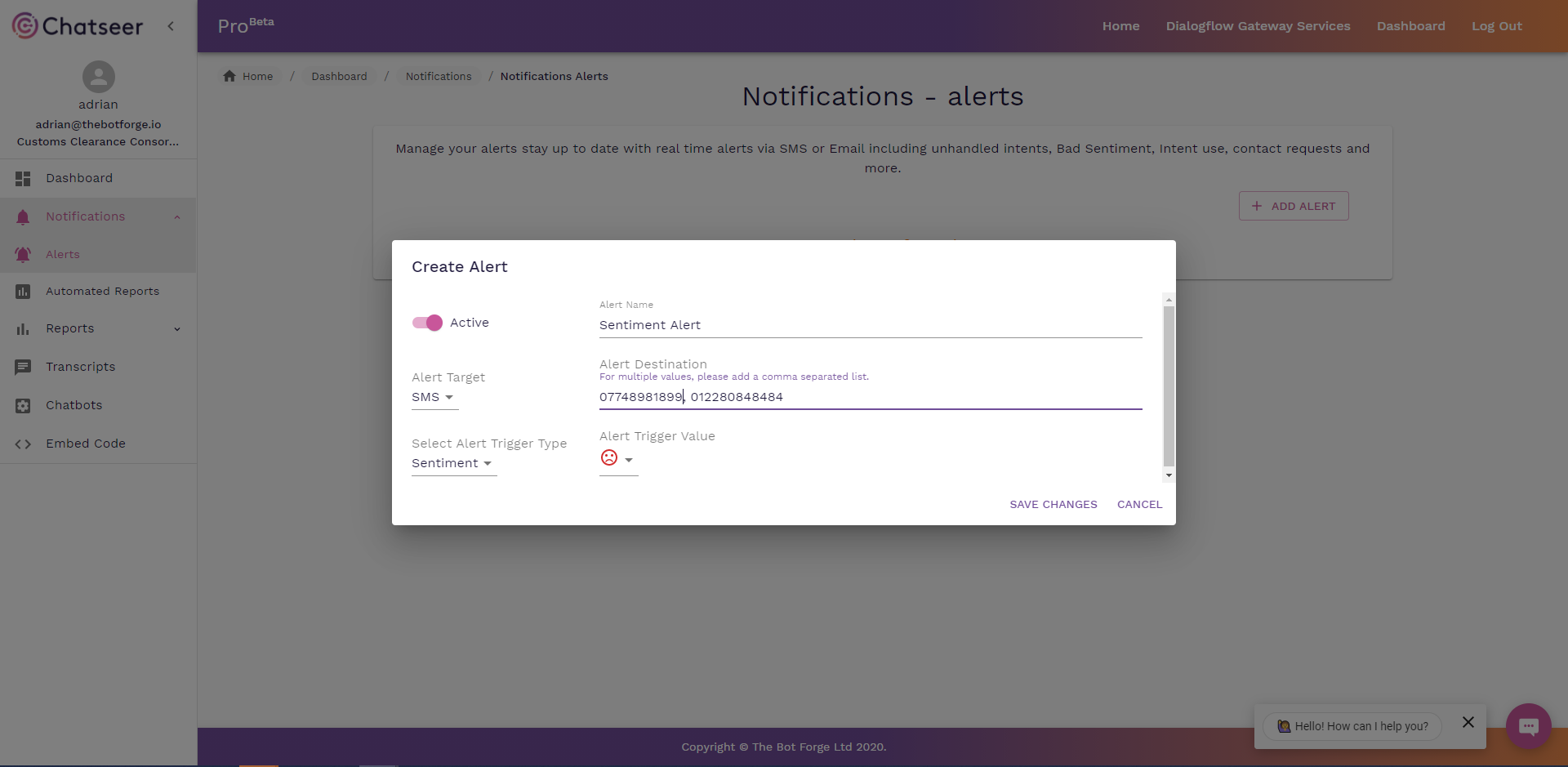 The platform provides real time chat transcripts, broken down by conversation and highlighting other metrics such as sentiment.
Users can also view top intent details as well as the messages which are unhandled.
Metrics can be exported easily as .csv files.
Advanced rule based notifications allow clients to watch their chatbot usage and action if necessary.
Supporting multiple platforms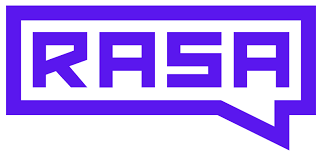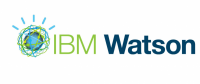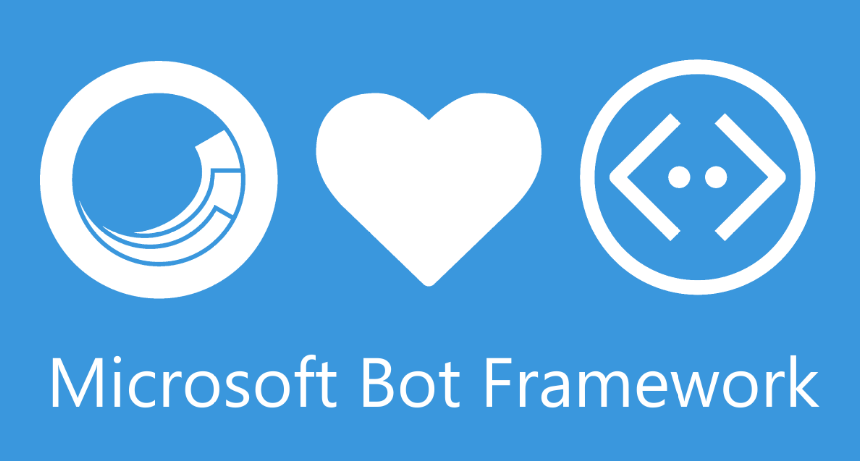 We created Chatseer based on the needs of our chatbot clients.

Our chatbot customers have assess to all their conversational data in a simple intuitive interface. Our chatbot analytics dashboard helps them ensure conversations are running smoothly, providing key chatbot usage metrics at a granular level.
With our advanced alerts, tracking events around specific statements is made easy. Automated usage reports allow easy access to bot engagement, helping track completion rates, monitor KPIs and provide valuable sales and lead insights.
Bot Agencies & Digital Agencies
Chatseer provides an out of the box chatbot analytics solution for chatbot and digital agencies to provide for their customers. Allowing them the time to create the best chatbots possible for their clients.
With great power comes great responsibility. Handing over an NLP platform to your clients has some associated risks. They are often complex with history logs hard to fine. A client can easily break conversation flows and worse. This is where Chatseer comes in, the perfect way to add value for your client by providing them with a deep insight into how their chatbot is being used.
Bolt on analytics for your chatbot project
For companies who have already created their own chatbot and want to provide usage analytics easily and cost effectively then Chatseer is the perfect choice.
Choose from our enterprise plugins to extend your conversational solution further.
Leverage advanced features such as our action tracker so you can watch responses for specific intents and trigger actions accordingly.
Chatseer can be integrated with 100s of everyday applications so you can keep up to date with your chatbot.
Chatseer allows you to consume chat logs from other platforms. For example if you have Dialogflow Stack Driver logs you can import these into Chatseer or if you have an Alexa skill you can call the new Alexa Metrics API
Some chatbot analytics platform pricing structures are complex and confusing. Ours isn't; choose from FREE, PRO or ENTERPRISE.