Tommy the Help For Heroes AI Chatbot
A web-based AI chatbot designed for Hero for Heroes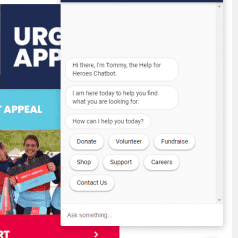 I'm really pleased with the bot and services we're getting from The Bot Forge. Since we started working with Adrian, he completely lived up to his promises. The end-to-end process has been very slick.

On average, we're having 15-18 people per day engaging with the bot. This isn't just opening it up, but actually typing a question or pressing one of the preset buttons. We're really pleased with how it's going.
Jamie Walker
Marketing Director
So far the feedback from Help For Heroes has been fantastic. Tommy is working hard to answer any questions he is asked. The key thing to remember is that Tommy is powered by machine learning and so will improve over time with regular training.
What does the future hold for Tommy? We may investigate adding voice input capabilities; which will make for one advanced automated assistant!