Meet Ferretti Bot, an AI-powered chatbot solution for luxury haircare brand Rossano Ferretti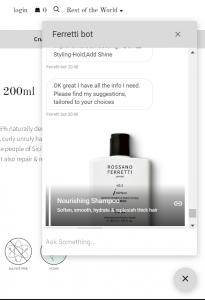 Objective
Our aim was to design and create an AI-powered sales chatbot that would help sell the correct haircare products to luxury haircare brand Rossano Ferretti's customers.
The chatbot needed to understand English and Italian and was to be deployed and integrated closely with Rossano Ferretti's global websites, email marketing platforms and Whatsapp.
Application
Product advice and suggestions via hair quiz
Email product suggestions
Provide answers to FAQs related to hair care and products
Salon Information
Integrate closely with Rossano Ferreti's multi-region websites
Whatsapp service integration
Mailchimp integration
Custom datalayer logging
Introduction
Rossano Ferretti is an Italian luxury haircare brand. They offer a range of exclusive designer haircare products.
They pride themselves on using the best natural ingredients, and avoiding harsh chemicals, with the goal of creating the most effective solutions to each individual's haircare needs.
They also operate a number of luxury salons across the world.
Rossano Ferretti were quick to realise that consumers are increasingly relying on chatbots for all forms of communication, whether personal, business, or commerce.
They came to The Bot Forge to help them create the ultimate sales chatbot to help their business.
Brief
We were approached by Rossano Ferreti to create an English and Italian-speaking chatbot solution, called Ferretti Bot, to help sell their products and ensure that customers buy the right product for their hair type and styling needs.
The chatbot was to improve sales by providing a 24/7 personalized shopping experience to customers via a quiz that highlights products specific to customer choices. Product recommendations were to be linked directly to the website, or a customer could request them to be sent as a recommendations email. Chat users also needed to be able to join the relevant website mailing list.
The chatbot was also needed to improve customer service and answer a range of related questions.
Ferretti Bot needed to integrate across 5 different websites that serve their international customers.
Our Approach
Requirements & Data Collection
Rossano Ferretti was clear in its vision of using conversational commerce. They wanted to utilise chatbot technology to help sell the correct luxury haircare products to their customers by matching the products correctly to hair type. These personal recommendations would come in the form of an interactive quiz, and would be key to Ferretti Bot's interactions with its customers.
Initially, we worked closely with Rossano Ferretti to understand their brand, its values and its range of luxury haircare products. This enabled us to understand the brief and design the most effective conversational capabilities to meet the requirements.
Conversational Design & Chatbot Training
To plan the chatbot's conversational capabilities we asked our conversation designers to streamline the chatbot responses and map conversational flows. For the product quiz, we knew the details of the questions to ask, and the associated attributes to manage the flow of the conversation.
Other flows were designed to cover general product inquiries, faqs, and salon information. Extensive custom entity work was also needed to support the quiz and product and hair types.
Italian & English-Speaking Chatbot
Although using the same conversational aI core functionality we needed to create 2 different language versions to support English and Italian. All the training data and utterances were tracked and collaborated on via our chatbot scripts. For the Italian translations, we worked closely with the Rossano Ferretti team in Italy to create the correct utterances to train the conversational AI model and all responses needed to be translated.
The project involved a number of custom features and integrations which were developed and deployed by our software team.
Solution
Sales & Customer Service Website Chabot
The chatbot is built on the Google Dialogflow ES conversational AI platform. We created a custom chatbot UI to enable us to create a richer experience for users interacting with the chatbot in quiz mode. The bot was deployed across 5 different websites that service Rossano Ferreti's international customers. You can see Ferretti Bot in action here.
The Ferretti bot can handle a variety of conversational scenarios. It boosts sales by offering clients a 24/7 personalized shopping experience and improves customer service by answering faqs and product questions.
Once a user completes the quiz the chatbot product search returns the best matches based on their hair type, condition, and personal preferences. These recommendations are shown in the chat interface and a client can request that they are emailed to them. Users are also provided with a compelling opt-in.
The bot understands free text inquiries like "I want a shampoo for oily hair" and can make product suggestions based on replies to follow-up questions from users.
The chatbot has a lot going on under the hood alongside some advanced conversational AI. Changing product offerings, multiple attributes, and product types need to be taken into account in the conversations.
Multiple websites mean different product locations, mail templates and campaigns all managed by custom middleware. Live handover to WhatsApp is also implemented with our direct integrations to the Sendbee Business WhatsApp API.
The Rossano Ferretti chatbot is also supported by our in-house chatbot analytics platform where staff can access chatbot metrics and performance.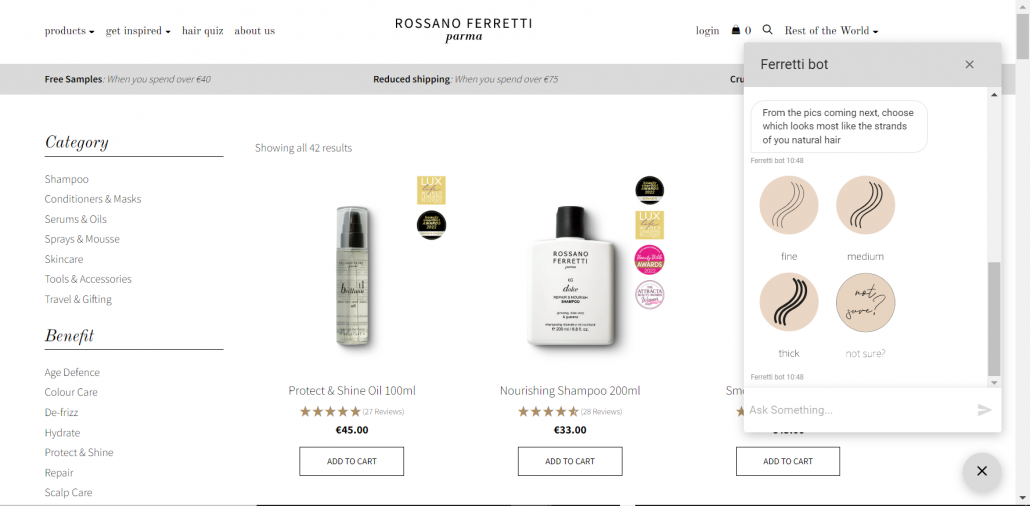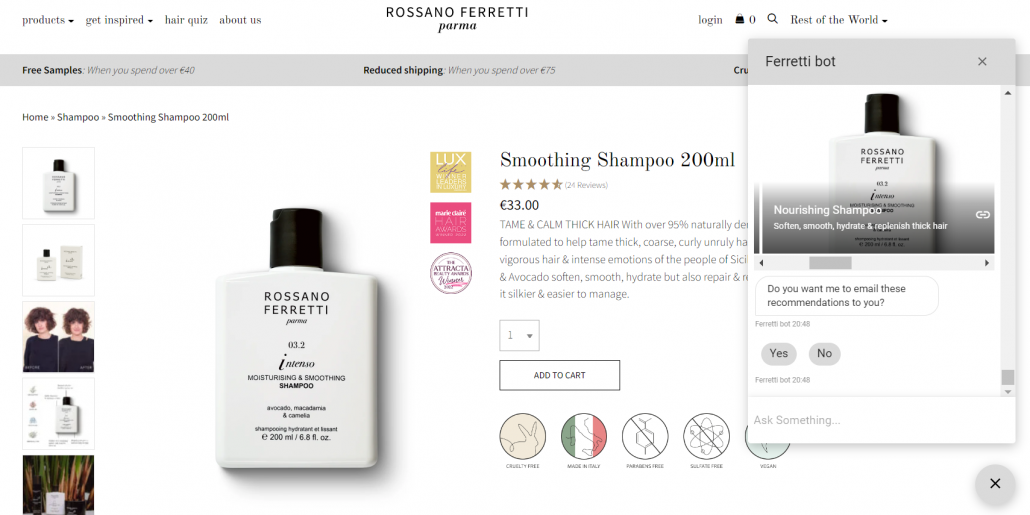 The English and Italian-speaking Ferretti Bot sales chatbot has been successfully providing personalised product recommendations, helping to sell products, growing its newsletter subscribers, and streamlining its customer support across multiple global sites.
At the time of writing, Ferretti Bot has...
Provided 1,600+ personalised product recommendations
Sent 600+ product recommendations emails
Signed up 200+ customers to the newsletter
Answered 100+ customer support queries and FAQs