Voice Assistants Development
Voice assistants are the future! We can create voice-driven conversational AI solutions to take on multiple business functions. Whether it be across platforms like Amazon Alexa and Google Assistant or deployed into an automated IVR system.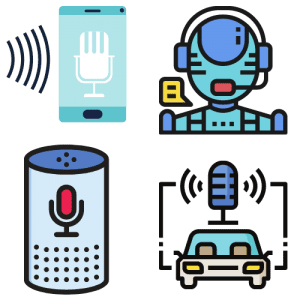 What is a voice assistant?
A voice assistant is a digital assistant that uses voice recognition, speech synthesis, and natural language processing (NLP) to provide a service through a particular application.
Voice assistants are often referred to in different ways depending on the application: Intelligent Personal Assistant, Smart Assistant, Automated Assistant.
Voice assistants can also come in a number of different guises. Such as smart speakers that listen for a wake word to become active and perform certain tasks. Amazon's Echo, Google's Home, and Apple's HomePod are types of smart assistants. Some assistants also live on Smartphones such as Siri and Google Assistant. Others are an integral part of a vehicle navigation and entertainment system.
At the cutting edge of technology is the conversational IVR system which is where legacy IVR systems are replaced with AI powered assistants which are connected to telephony engagement channels. Therefore a voice assistant can be connected to any telephony channel to handle and route calls and the complex numbered IVR menu system can be replaced with an advanced voice assistant.