3 Books That Will Boost Your Chatbot Knowledge
Introduction
Currently, chatbots are dominating online markets, especially in countries such as the U.S., India, Germany, Brazil, and the UK.
According to a Business Insider article on chatbot statistics, 40% of internet users worldwide prefer chatbots over virtual agents because they get answers quickly and more conveniently due to their 24-hour service.
Due to the increasing demand of consumers to have round-the-clock digital experience, experts predict that retail companies will increase their budget for chatbots to $142 billion in 2024 from just $2.88 billion in 2019.
Therefore, we can expect that chatbots will become the primary communication channel for online consumers in the foreseeable future.
As such, here are three books that can jumpstart and enrich your knowledge in the world of chatbots.
1. Designing Bots: Creating Conversational Experiences
Before starting your journey, it is important to understand and familiarise yourself with the fundamental information about chatbots.
Designing Bots: Creating Conversational Experiences by Amir Shevat can help you on this one.
The book introduces the readers to the description, process, and purpose of chatbots. Shevat emphasises that chatbots are not trivial projects. Therefore, businesses that want to utilise chatbots must learn how to effectively use them to ensure a successful implementation and a return on investment.
Our previous article, Planning the Best Chatbot, concisely breaks down the necessary steps when planning a chatbot project, including identifying the purpose, goals, and performance indicators of your project. Alongside our insights, the book provides information on how to build and design your chatbot by presenting actual cases.
With the help of this book, you can learn and refresh your memory with the basic principles and start delving into the deeper concepts about chatbots without feeling overwhelmed.
2. Algorithms to Live By: The Computer Science of Human Decisions
The second book, Algorithms to Live By: The Computer Science of Human Decisions by Brian Christian and Tom Griffiths, explores the power of precise algorithms in helping us decipher human questions, which allows us to predict human choices using computer science.
The book posits that algorithms aren't limited to the world of computers, but that they also bridge technology and human interfacing. This is why the book is worth reading.
It highlights how mathematical philosophy and life are not so different when it comes to solving problems and making decisions. By solving human problems like mathematical problems, which includes inputting various information and seeing how they work together, we can reduce and deduce possible options and end up with the right answer– a process paralleling that of chatbots'.
Solving problems and the steps that involve them are algorithms themselves, and chatbots work similarly. After customers input their concerns, the algorithm recognizes the problem and presents the most viable solution based on a predetermined set of actions or rules.
Tips. Insight. Offers. Are You In?
3. Business of Bots: How To Grow Your Company Through Conversation
This book, Business of Bots: How To Grow Your Company Through Conversation by Mariya Yao and Adelyn Zhou, goes beyond the theories of chatbots and discusses how businesses who want to connect with their customers can utilise chatbots.
This is best for those who have gone through the chatbot basics and want to advance their knowledge.
According to the authors, chatbots powered by artificial intelligence will not only help businesses improve their customer service departments, but also boost their sales and marketing strategies.
To visualise the success of chatbots, the book also examined and featured hundreds of actionable bot strategies of leading brands in the marketplace, such as Sephora, Expedia, Victoria's Secret, Capital One, and eBay.
After learning the ropes of chatbots, it is time for you to apply that knowledge and enhance your business with chatbots.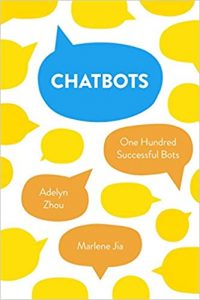 Conclusion
In a world where consumers prioritise efficiency and speed, chatbots will become the new mode of communication with consumers.
Understanding how they work and how to best utilise this technology will definitely help businesses keep up with consumer needs. If you need assistance in initiating your chatbot services, do read about our custom chatbot development services.
Post especially contributed by Cara Ariella Erickson for thebotforge.io
About The Bot Forge
Consistently named as one of the top-ranked AI companies in the UK, The Bot Forge is a UK-based agency that specialises in chatbot & voice assistant design, development and optimisation.
If you'd like a no-obligation chat to discuss your project with one of our team, please book a free consultation.