9 Questions To Help Define Your Chatbot Project Scope [2022 Update]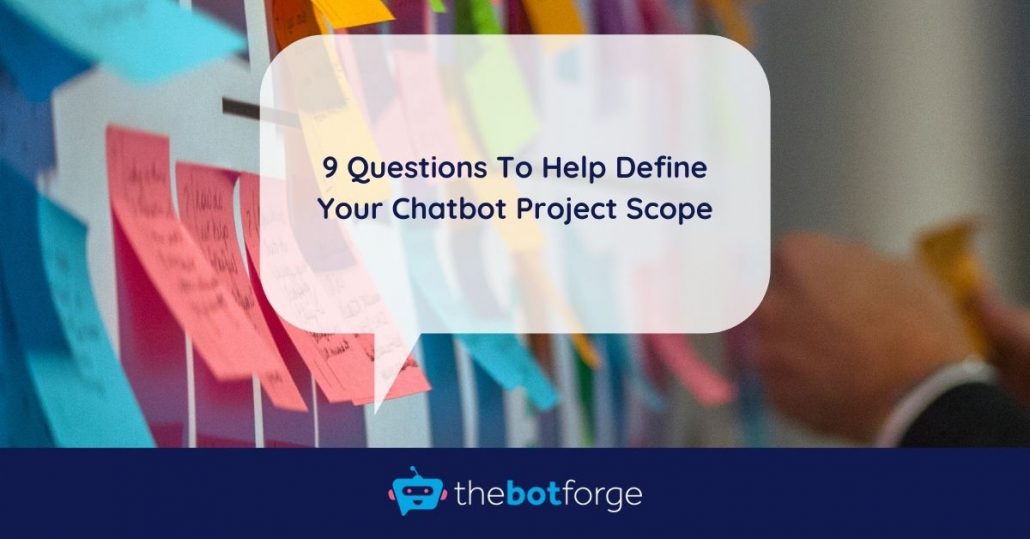 Defining Your Chatbot Project Scope
The initial discovery and planning stages are where the seeds of a successful chatbot and voice assistant are sown.
Chatbot projects come in all shapes and sizes. We receive many inquiries from customers about their conversational ai project ideas. Some have already spent a lot of time considering their project needs and have a set of high-level requirements which are already in the form of use-cases or user stories. Others have just the knowledge of their problem and want to know if a chatbot or voice assistant can help.
We often find the questions we need to ask to pin down the high-level requirements and get an idea of scope are often the same. So we try to get answers to the following questions as soon as possible:
Tell us about your business/department/area...
e.g.  We are the market leaders in creating x. My team handles customer service for our organization. We have x staff members and handle approximately y queries a day. Our key metrics are z and z.
What are the business problems that you'd like to address?
e.g. "we have a problem in our company, with getting too many questions about x via y, and they are often the same. What can a chatbot do to help us? Where can it be used?"
What are your objectives?
e.g. we want to use a chatbot to answer these repetitive questions so our team can concentrate on answering the more difficult queries
What is the expected process flow and/or user journey of the chatbot?
e.g. Our users request information via phone call/email/IM. 80% of these questions are simple and repetitive. We want to address these key queries via a chatbot. Further, we wish to provide our users with a simple way to speak to a live agent if more information is needed.
What are the use cases that the chatbot or voice assistant needs to satisfy and how complex are they? 
e.g. we have a handful of questions which we get asked a lot. These are standard customer support requests such as where is my order? These can be answered in a few minutes. We also receive 50 or 60 other inquiries about our products which can be very detailed.
What channels does the chatbot need to be deployed to?
e.g. the chatbot will need to be deployed onto our department website as a web widget and a Microsoft Teams chatbot.
Do you need to support hand over to live agents to answer advanced customer queries or to step in when needed?
e.g. there are live agents which we would like to hand over the chat conversation to
What are the additional requirements and/or conditions?
e.g. we need to log a ticket detailing the chat into our system. We need a Spanish language version
How are you going to measure success?
e.g faster response to the customer, reduced hours spent answering questions, NPS
Once we have the answers to these questions, businesses invariably want a rough estimate of scope: how long will the solution take to build? How much will that cost?  We find we are now in a better place to give some high-level estimates. We are also in a position where we understand what our customer's problems are and how we can address them with conversational AI.
TIP: Download our free chatbot checklist to help you iron out your scope
Tips. Insight. Offers. Are You In?
You Have Your Scope... What Next?
Once you have your chatbot scope it's time to work closely with your chatbot solutions provider (*tip*, that's The Bot Forge!) in a more detailed project planning phase which can be broken down into the following steps:
High-level Requirements
Scoping
Roadmap
Requirements analysts, Product managers, and stakeholders, conversation designers, ai trainers and developers all need to be involved in the planning stages. The key to a successful project is to ensure the whole team has a shared vision of what the problem is, what the solution is, and who the solution is for. It's this mutual understanding which will ensure the successful creation of a high-level plan and the bedrock for a successful conversational AI project.
About The Bot Forge
Consistently named as one of the top-ranked AI companies in the UK, The Bot Forge is a UK-based agency that specialises in chatbot & voice assistant design, development and optimisation.
If you'd like a no-obligation chat to discuss your project with one of our team, please book a free consultation.