Why Should You Use Dialogflow For Your Chatbots?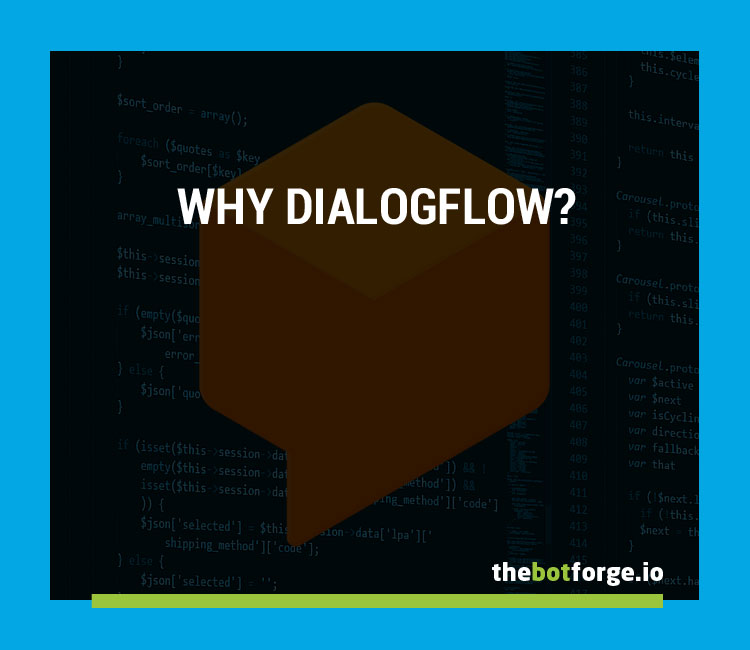 Dialogflow is Google's human-computer interaction developer which is based on natural language conversations. At The Bot Forge, Dialogflow is our platform of choice for chatbot construction.
There's three main reasons for why we're amongst companies such as Domino's and Ticketmaster who make Dialogflow their chatbot platform of choice.
Flexible coding: Thanks to Dialogflow's in-line code editor, the time taken to complete code-related tasks is quicker than with other platforms. The prime benefit here is that we're then able to spend more time perfecting the conversational experience.
Scalability: Whether you start with 1,000 or 100,000 users, the platform can scale to your needs. As Dialogflow is hosted on the Google Cloud Platform, this allows the potential to support a user base of hundreds of millions, if required.
Inbuilt machine learning: Arguably the biggest benefit of the platform in comparison to others is the availability of machine learning and natural language processing technologies. The access to these features allow us to create a richer and more natural conversational experience for your users. Dialogflow makes this possible by allowing us to extract data from a given conversation, in order to train our agents to understand user intents. Plus, as the technologies are already built into the platform, we're able to construct your application much faster.
To ensure that we're using the right platform for our clients' needs, we continuously refresh our knowledge of other bot construction tools, such as The Microsoft Bot Framework. A benefit of using this platform from a developer's perspective is the availability of templates to choose from, which allow for a more time efficient development. The IBM Watson Assistant is another platform that a developer may favour, as the testing the bot is simpler than it is on other competing platforms. If a priority is to feature your bot over a wide range of locations, Recast.AI may be a good option for its availability on 14 different platforms.
But, these platforms aren't without their weaknesses. Unlike Dialogflow, Microsoft Bot Framework is lacking in the tools which help to create the "brains" of the bot, which is important for the sophistication that users are beginning to expect. Also, a downside of IBM Watson Assistant is the unintuitive relationship between intents (representation of user's meaning) and entities (expressions recognised in categories). If you're interested in how Dialogflow utilises intents and entities, we will be covering this in a future blog post.
Although we understand that there are features of other platforms which can make the development process more efficient, the inbuilt machine learning features of Dialogflow means we can deliver a bot that can produce a much richer conversational experience.
About The Bot Forge
Consistently named as one of the top-ranked AI companies in the UK, The Bot Forge is a UK-based agency that specialises in chatbot & voice assistant design, development and optimisation.
If you'd like a no-obligation chat to discuss your project with one of our team, please book a free consultation.