Google Launches New Dialogflow CX in Beta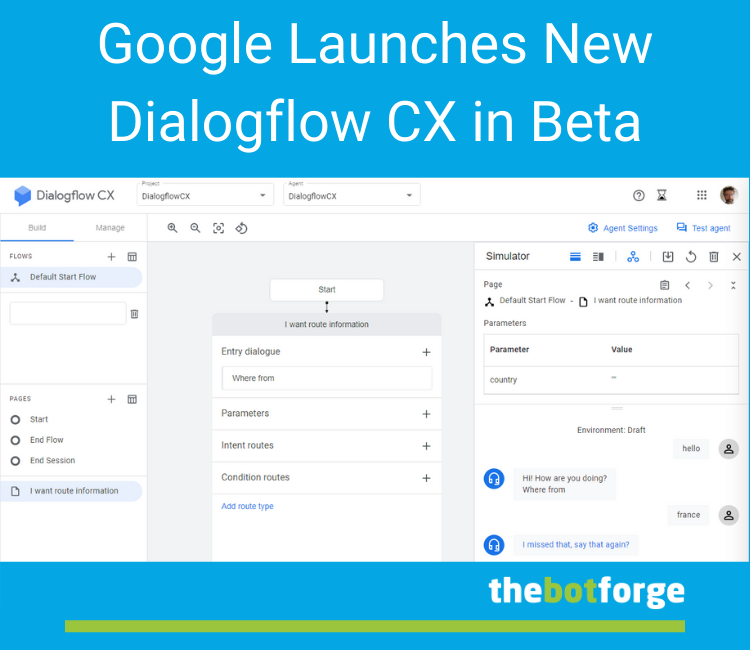 Google has beta launched a new version of it's Dialogflow natural language understanding (NLU) platform: Dialogflow CX. The Dialogflow version we all know and love is now called Dialogflow ES.
The new Dialogflow Customer Experience (CX) platform is aimed at building advanced artificial intelligence agents for enterprise-level projects at a larger and more complex scale than the standard variety.
"Dialogflow CX provides a new way of designing agents, taking a state machine approach to agent design," Google explained in the documentation for CX." This gives you clear and explicit control over a conversation, a better end-user experience, and a better development workflow."
Stand Out Features
The stand out feature for us is the that the Interactive flow visualizations allow conversation builders to quickly see, understand, and edit their work so creating more complex multi turn transactional conversational experiences will be more straightforward.
A state-based data model allows developers to reuse intents, intuitively define transitions, and handle supplemental questions.
In a single virtual agent, separate flows let multiple teams work simultaneously.
Plus, there seems to be versioning and environment at the flow level with other features such as the ability to run AB experiments and split traffic. We've started to look at the new Dialogflow CX console and things look really interesting.

A full break-down is beyond the scope of this post; we will be getting back to you with a more detailed feature analysis in future.
You can read more about Dialogflow CX here
Introductory Video can be see here
Beta Limitations
Its worth keep in mind Dialogflow CX is in beta, so some important features are not implemented yet. The following features found in Dialogflow ES are not implemented for Dialogflow CX yet:
Any language other than English (en)
Integrations
Knowledge connectors
System entity extension
History
Training data import
First Impressions
Our first impressions are that this will be a major tool for creating complex conversational enquiry heavy chatbots without having to juggle context. So particularly IVR chatbots or text chatbots which need to serve more complex roles.
It's also important to mention that this is a beta release, so some important features are not implemented yet. The following features found in Dialogflow ES are not implemented for Dialogflow CX:
As Google technology partners we are really excited about this new version of Dialogflow; if you want to learn more about Dialogflow CX and how an advanced chatbot can help your company please  contact us to discuss further.
About The Bot Forge
Consistently named as one of the top-ranked AI companies in the UK, The Bot Forge is a UK-based agency that specialises in chatbot & voice assistant design, development and optimisation.
If you'd like a no-obligation chat to discuss your project with one of our team, please book a free consultation.