The Bot Forge Named UK Industry Leader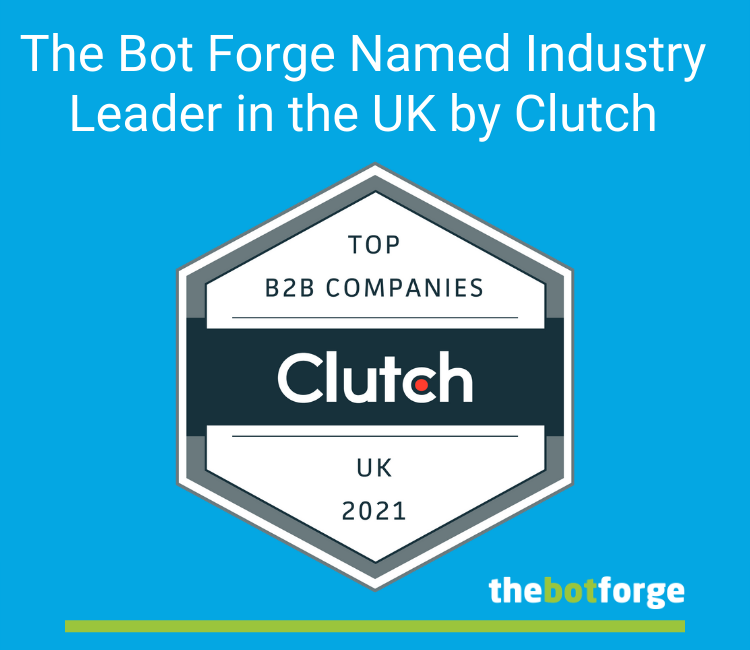 The Bot Forge named the leading chatbot and voice assistant agency in the UK by Clutch
Artificial Intelligence is a staple plot device in the sci-fi genre, often featured in a negative light. But in reality, predictive software improves the quality of life and leverages businesses to be more efficient and agile. No doubt AI technology can have a high-risk and high reward situation. If done correctly, its potential is unlimited. On the spot programming, automated customer support, and predictive analytics are just a few of its remarkable features.
We at The Bot Forge understand the capabilities software development and AI technology can bring to your organization. With bespoke chatbot and voice assistants as our core service, we can build the voice of your company to interact with your customers with no worries. Our process is guaranteed to make your lives, as well as your clients' easier.
It is with great honor to announce that The Bot Forge has been chosen as one of the top AI companies in the UK. Our company is among the best on Clutch and it's all thanks to the support of our esteemed clients.
"We are really excited to have been chosen as one of the leading chatbot and voice assistant agencies in the UK by Clutch." - Adrian Thompson, Founder of The Bot Forge
We are grateful to be recognized as an industry leader. This award and our 5-star rating wouldn't have been possible with our clients!
About The Bot Forge
Consistently named as one of the top-ranked AI companies in the UK, The Bot Forge is a UK-based agency that specialises in chatbot & voice assistant design, development and optimisation.
If you'd like a no-obligation chat to discuss your project with one of our team, please book a free consultation.