What Can We Expect From Conversational AI in 2021?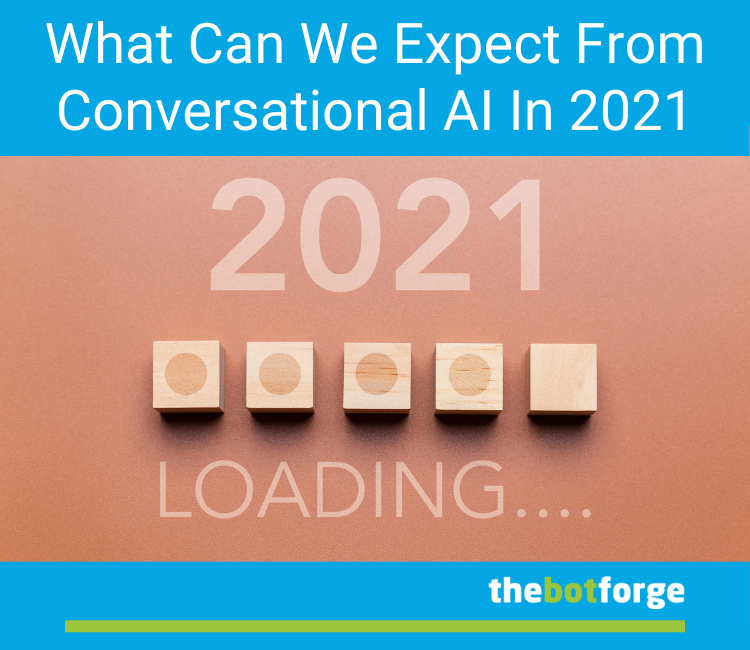 The use of conversational AI will continue to rise
Yes we are going to see continued growth in conversational AI in 2021. It's predicted that 1.4 billion people will use chatbots on a regular basis with $5 billion projected to be invested in chatbots by 2021. Voice assistant use will also grow. The use of voice assistants is expected to triple by 2023 (juniper research) and 50% of businesses will spend more on conversational than mobile in 2021.
Conversational commerce
For retail and e-commerce firms, conversational commerce, which is e-commerce transactions made by conversational methods such as texting and messaging, is generating waves. C-commerce not only allows brands to better serve their client base, but it's opening up doors to new customers as well. A report made by Facebook states that 40% of global respondents said that c-commerce was their first introduction to online shopping.
97% of all respondents said that they plan to continue or increase their c-commerce spending in the future. Brands are likely to start considering how to leverage this trend and integrate messaging apps within their sales and marketing strategies.
Voice Commerce
According to Techopedia, Voice Commerce describes the utilization of voice recognition technology that enables consumers to purchase online merchandise or services.
Basically, it lets consumers buy products or services by simply using their voice. However Voice Commerce can also be part of a much wider customer journey, the transaction may not have to occur via voice. For example a consumer might have seen an ad for a product and asks Alexa about its price. The user then decides to buy it a few days later on the Amazon website. That's why Voice Commerce involves much more than an isolated transaction process via voice.
Voice is a big deal, the number of digital voice assistants in use worldwide is estimated to reach 8 billion by 2023.
Already smart speaker users:
research products
add items to their shopping list
track a package
make a purchase
provide ratings or reviews
contact support
reorder items
In 2021 there will be more Alexa in skill or Google Home action purchases as more retailers will leverage this medium; British supermarket chain Ocado has led this by example.
There will also be a continued rise in the enablement of product purchases:
Amazon has put a lot of time and effort into creating a seamless customer experience with its Echo devices.
Conversational AI taking the next steps
2021 will see a transformation for conversational AI chatbot capabilities with projects such as https://www.kuki.ai , Blenderbot , Meena and GPT-3. Open-domain chatbots will push the boundaries of what is possible. There will be an increase in AI chatbots that are personalised, processes more advanced problems and has a greater understanding of customer sentiment. In this way, your standard chatbots are likely to be replaced by conversational AI chatbots that are able to have a more human-like back and forth conversation.
These new technologies include very large language models: The Meena model has 2.6 billion parameters and is trained on 341 GB of text (1) so these models make huge computational demands. In 2021 as compute power continues to drop in price  there will be a rise in availability of this open-domain chatbot technology.
Companion systems
As we live under the constraints inflicted by a global pandemic, we have been tackling an unexpected increase in alienation and loneliness in 2020. The demand to fulfil a companion role for AI assistants is something we expect to expand in 2021. With AI advancements this is becoming more realistic.
In 2020 chatbots took an informational role in many areas of the crisis; we covered a Covid support chatbot back in April. This looks set to continue in 2021.
Chatbots in immersive game experiences
Conversational AI technology looks set to be used in some really interesting ways in 2021. Particularly embedded in real-time games and integrated in multiple platforms.
Voice interaction will augment user interfaces.
We see a rise in the popularity of adding voice capabilities to software products. Specifically leveraging this sort of technology in touch screen situations.  Software developers will improve their products by removing friction from the touch screen experience by bringing in voice controls. This sort of feature would be particularly useful for more complex search screens.
Conversational search
Voice search is now a rapidly growing form of access to information, but to be even more useful, it will need to become more conversational. Multiple conversational turns, follow-up on search responses, clarification and refining searches – are all aspects of natural conversation that Conversational AI is starting to replicate. These will be assisted by advancements in features such as Continued Conversation. At the same time voice search data and your own "voice" presence will become more important. Hey Google, who are "insert company name here".
Chatbots as sales assistants
In 2020 we have seen a rise in chatbots taking on the role of sales assistants. Providing  specific knowledge about products is where this type of technology can excel: Providing product recommendations based on provided parameters. We've been working on these types of projects ourselves and will have more to show in 2021!
Smart IVR use will continue to grow
Speech recognition and natural language understanding for automated inbound and outbound request processing will rise. With companies offering advanced audio gateways and services such as Audiocodes. More and more legacy IVRs will be replaced with conversational IVRs: no more struggling with keypad input and overly complicated menu prompts. Advanced features such as automatic handover to live agents and multi voice options to give your Smart IVR a voice that matches your brand will improve the customer experience.
We will also see chatbot technology being utilised in different ways. Particularly in an Agent assist role, where chatbots will listen to call center conversations and provide advice, information or even responses to operatives in real-time.
Conclusion
2021 looks set to be an exciting year. Advancements in technology and changes in customer patterns and the workplace in many industries will continue to drive the growth and use of conversational AI. Everyone at The Bot Forge is looking forward to some really exciting projects in the new year!
(1) https://ai.googleblog.com/2020/01/towards-conversational-agent-that-can.html)
About The Bot Forge
Consistently named as one of the top-ranked AI companies in the UK, The Bot Forge is a UK-based agency that specialises in chatbot & voice assistant design, development and optimisation.
If you'd like a no-obligation chat to discuss your project with one of our team, please book a free consultation.