Why Business Chatbots Give You a Competitive Edge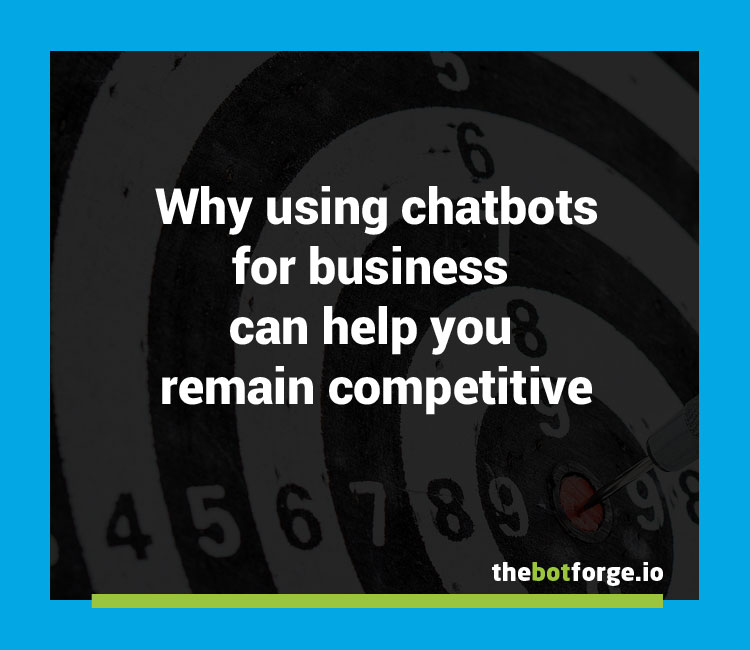 Chatbots For Business
The business landscape is evolving faster and faster, we look at using chatbots for business to help you remain competitive.
There is so much coverage of artificial intelligence technology and chatbots these days  There is no doubt that chatbots are big news for many different industries, from e-commerce and fashion to healthcare and banking.
Whilst many big brands have already jumped at the opportunity to leverage the technology for others it's challenging to see where they can be a benefit to your company and whether the cost and effort involved is worthwhile. Some of you may remember many years ago when you were approached by someone selling a shiny website and then later on a new app? You probably asked yourself a similar set of questions..that's nice and shiny but why do I want it? is it right for us? First things first let's look at some of the basics.

The chatbot lowdown
What is a chatbot?
Briefly put a chatbot is a service, powered by natural language processing rules and artificial intelligence (AI), that you interact with via a voice or text-based chat interface. AI technology is used to enable the service to respond to specific user interaction. For example, a user could ask a chatbot a question or give it an instruction and the bot could respond or perform an action as appropriate.
This chat service can take on any number of roles, providing answers, collecting customer information, suggesting products and making sales. They can live in any major chat product (Facebook Messenger, Skype, SMS, Slack, Telegram, Viber, Twitter, Website). They can also be deployed into voice-enabled assistants such as Amazon Echo or Google home. Chatbots can also be developed to include multiple language capability.
Where can a chatbot be used?
Chatbots have been deployed in many different guises as they are extremely flexible and able to take on whatever business need arises.
You could say the possibilities are endless, here are some examples:
Celebrity
www.m.me/katyperry
Katy Perry's official Facebook Messenger bot.
Customer Service

Vodafone TOBi
Vodafone's customer service chatbot is based on IBM's Watson & provides a fully integrated webchat for customers.
Productivity
AceBot
https://slack.com/apps/A0GRU84TF-ace
AceBot a productivity tool with expense tracking & intelligent task management, deployed in Slack.
Sports and Events

www.m.me/fredwhittonchallenge
The Saddleback Fred Whitton Challenge sportive bot is a smart events assistant providing event info to participants.
E-Commerce
www.m.me/LEGO
The official Lego Facebook Messenger bot. Ready to help your next LEGO purchase.
The benefits of using chatbots for your business
Provide stellar customer service 24/7
For many businesses, the biggest challenge to serving your customers in several communication channels is responding quickly all of the time.
Constantly available
One of the great benefits of a chatbot is the constant availability. Customer expectations are high expecting a quick response to enquiries. With a chatbot, you can offer your customers a service which is available 24 hours a day even when there are no employees in the office. You can rely on your bot no matter what time of the day or day of the week or timezone the enquiry is coming from.
One example from my own personal experience was with a SAAS which had charged me incorrectly for an amount of money which caused my bank account to go overdrawn. I contacted the customer support chatbot via a web interface at 1 AM and the problem was rectified and money returned promptly the next day. I went from disgruntled to a satisfied customer in a 5-minute chatbot interaction, incidentally, I'm still a customer!
It's also worth noting that chatbots can be enabled to understand multiple languages. NLP technology will understand queries in different languages and respond appropriately. So if you support a global customer base needing to support multiple language enquiries this does not have to be a problem.
System integration
With the correct integration development, a chatbot is able to answer complex enquiries by integrating with existing CRM, ERP, CMS, and other business-critical applications.
Connect your chatbot seamlessly with your entire business ecosystem.
Scalable
Chatbots are scalable and capable of handling multiple enquiries, ready to step up when enquiry demands are at their peak.
A well implemented and executed chatbot can give businesses the ability to have more conversations and help more people at once than other alternatives, for example, live chat applications on websites.
This ability to handle the frequent enquires where the responses are often similar facilitates businesses in freeing up staff to deal with the more complex issues.
Although a chatbot cannot handle all customer queries, it can be used to deal with a large number of the routine business enquiries which most companies deal with on a day to day basis.
They improve customer satisfaction
To avoid frustration, a chatbot can be developed to use a "sentiment" function to pass users onto a real advisor if the bot can't help or if they are not satisfied.
Other benefits can be seen in customer service gains. According to Jon Davies, head of digital at Vodafone, their customer service chatbot, TOBI provides "a far more engaging and personal" customer experience, as well as improving completion rates and reducing transaction times. These types of successes are highlighted in improved net promoter scores (NPS).
Overall chatbots for business can excel in supporting customer service teams in their communications with customers. Providing accessible information 24/7 saves businesses money and time. By 2022 chatbots are expected to save $8 billion.
Drive sales, engagement, reach
These days customers are savvier and demand an intuitive and seamless customer experience. Businesses need to consider using technology to fit in with their communication habits.
Familiar messaging technology
Many users prefer social media and mobile platforms for communication and expect businesses to be online when they are. If users are having a conversation with a chatbot in Facebook Messenger, they are using a conversation channel they are familiar with and they are already using the technology and don't need to install a new app. The numbers of messenger app users have been steadily rising. As of April 2017 Facebook Messenger had 1.2 billion monthly active users worldwide
Use these channels to reach new and existing customers.
It's also important to note that 2 out of 3 customers actually prefer to message a business to submit an enquiry rather than use other more traditional channels such as email or phone. Every day 1.4 billion people around the world send over 50 billion messages to communicate with each other. As messaging becomes even more central in people's lives, demand for service in messaging has continued to rise.
The rise of voice assistants
Voice assistant technology and it's adoption has gathered serious momentum over the past couple of years. User expectations are rising as they become educated in what it can do. As customers realise that its capabilities go beyond setting a timer, turning down the lights or playing some music; they will look to this channel to make purchases, contact customer support or use as a tool for business specific tasks.
The latest from Google  Popular voice assistants currently include Apple's Siri, Amazon's Alexa, Google Now, Google Assistant and Microsoft's Cortana. The big players are investing heavily in perfecting voice interfaces.
The reach of this sort of technology cannot be underestimated. You can read some of the stats and predictions for voice technology here.
Marketing clout
As an effective marketing tool chatbots can give your company an edge as they can enter into personalized and automated communication with your customers.
Using platforms such as Facebook messenger, substituting emails with push notifications can obtain much higher click-through rates. Used wisely opt-in targeted messages or push notifications have 90% read rates and a 40% click-through rate. Chatbots can be used to send users personalised tips, greetings and information, generating leads, harvesting reviews and forging stronger customer relationships.
Utilising these techniques a chatbot is able to reach participants wherever they are, regardless of where the chat session was initiated, whether on a mobile app, a website and even from social platforms such as Facebook Messenger.
Businesses are finding chatbots to be a great tool to engage with their market: "Our target customers are early adopters of social innovation so a chatbot is the perfect vehicle for us to communicate with them", Sarah Gower, Adidas.
Sales
Chatbots are ideal to answer first customer questions. if the chatbot decides that it can not effectively serve the customer, it can pass those customers to human agents. High value, responsive leads will be called by live agents increasing sales effectiveness.
Chatbots can be used to answer customer's questions and promote products. Engage with the right customer by analyzing their profile and historical data and user characteristics. A bot can provide a channel for purchasing easily and quickly if requested.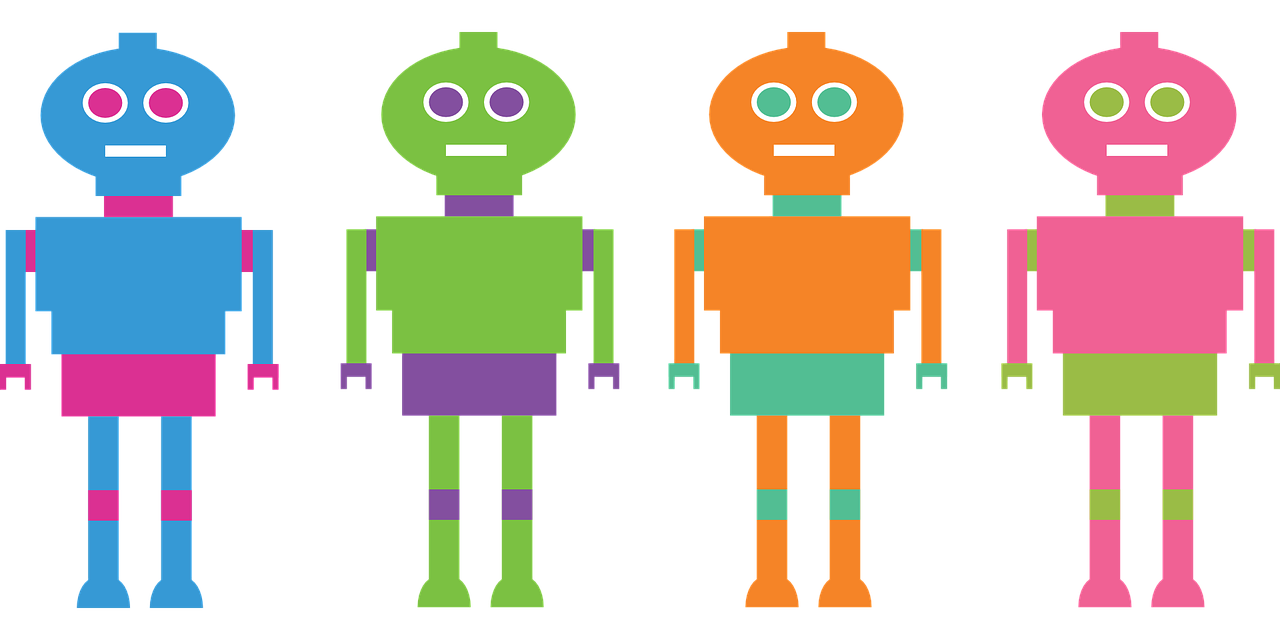 Conclusion
I've really only scratched the surface of chatbot and voice interface technology capabilities and what can be achieved and how it can help your business be more competitive. However, it's important to consider them carefully.  It's up to the business to decide if a chatbot is a right move for them, for some the business case may not be there or something to consider in the future. Building a chatbot because you think you should or because its the latest thing can only result in wasted time, money and effort.
I hope you find this post helpful in considering how using chatbots for business can help you to achieve a competitive edge.
If you already have a chatbot idea and want to look into this further have a look at our post planning the best chatbot
At the Bot Forge, we specialise in building chatbots.
About The Bot Forge
Consistently named as one of the top-ranked AI companies in the UK, The Bot Forge is a UK-based agency that specialises in chatbot & voice assistant design, development and optimisation.
If you'd like a no-obligation chat to discuss your project with one of our team, please book a free consultation.